What are HTG Resins for?
When descending a mountain road and braking for a prolonged time (even light braking), the friction generated by the brake pad on the rim transforms the kinetic energy of the rider + bike into heat. This is what allows you to brake efficiently.
With an aluminium rim, the heat generated is dissipated quite easily through emission and conduction. The excess of heat is accumulated in the rim mass. Furthermore, an aluminium rim is very resistant to heat. On the opposite, a carbon rim has a high thermic inertia and a considerably lower mass. The heat build-up may lead to structural failure of the rim carbon/resin bonds.
It is therefore essential to use ad hoc resins with high working temperature for the braking surfaces of the rim and the bed of the tyre/tubular.
A high working temperature for a resin is defined by her Tg temperature (Glass Transition temperature). This means that exposed to higher temperatures, a resin's structure will transition from a solid glass-like structure to a more rubbery-like soft one.
Even though it doesn't mean that your rim will automatically fail but the stiffness and strength properties will drop dramatically which may cause major failure to the rim!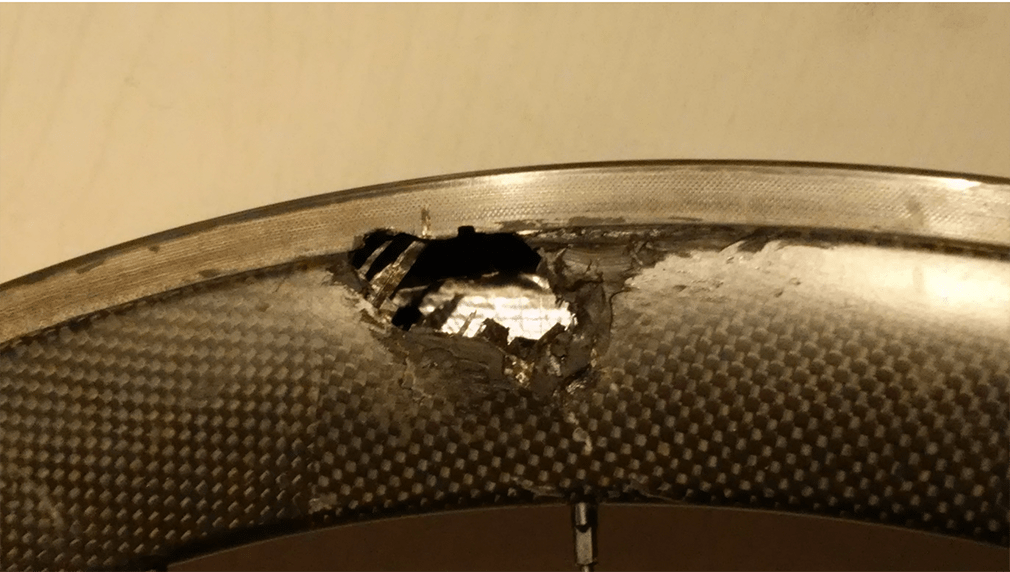 A little advice
A good wheel isn't all! Indeed, besides the rim resilience there is the tyre, (and in case of tubulars, the glue!). Tests have proven that these will often fail sooner than rims with decent Tg resins…
What to do then?
The best braking technique while descending is to brake hard and short and let the brake pads clear as far as possible from the rim to allow for maximum cooling. Of course, this technique is best suited for long descents (especially for mountain passes). Be careful though not to block the wheel by braking too suddenly!